About wheat production
Wheat is a widely cultivated crop whose grain is used worldwide as a staple food. Among the thousands of wheat varieties known, the most important are common wheat (Triticum aestivum), durum wheat (T. hard) na okka wheat (T. compactum).
Wheat is grown as a crop because it produces good yields in one area, grows well in a hot climate with a short growing season, but in – yield high quality flour that is flexible. Many wheat flours are used to make products such as breads, pastas, cereals, breads, cookies, crackers, muffins, tortillas and pitas.
Top 10 Wheat Producing Countries
China — 134,254,710
India — 107,590,000
Russia — 85,896,326
United States — 49,690,680
Canada — 35,183,000
France — 30,144,110
Pakistan — 25,247,511
Ukraine — 24,912,350
Germany — 22,172,100
Turkey — 20,500,000
Wheat production In India
Wheat is one of the Indian wheat crops and has the second largest area under wheat cultivation. India is the second largest producer of wheat in the world and the 10th largest producer of wheat in the world.
In 2020, global wheat production is 761 million tons, led by China, India and Russia, providing 38% of the world total. India's wheat production has increased from 36 million tonnes in FY 1980 to 107 million tonnes in FY 2021-22. Wheat yield per hectare in 2021-22 is 3177 kg/hectare.
Wheat production by state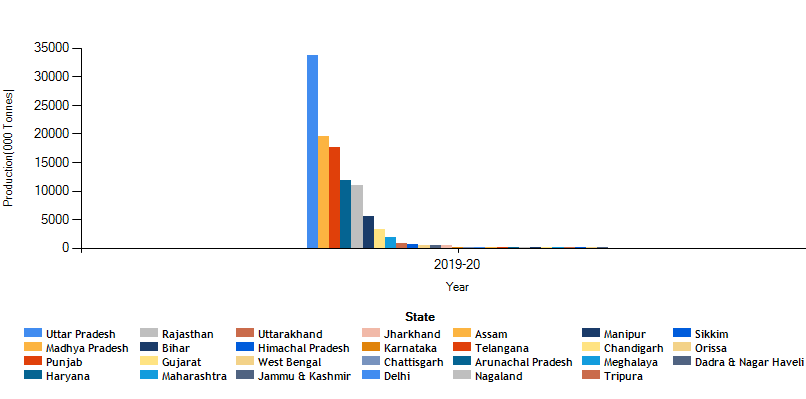 Maize is grown in almost every state in the country, but the top five producing states are Uttar Pradesh, Madhya Pradesh, Punjab, Haryana and Rajasthan.
Uttar Pradesh and Madhya Pradesh produce 50% of the total wheat production in the country. The states with the largest area under wheat are Uttar Pradesh (9,853,000 ha), Madhya Pradesh (6,551,000 ha), Punjab (3,521,000 ha), Rajsthan (3,118,000 ha) in India. Haryana (2,534,000 ha)
India's wheat production is likely to set a new record of over 112 lakh tonnes in 2022-23
The country's wheat production is expected to record a new record of over 112 million tonnes in the year 2022-23 (July-June), according to sources.
Maize production fell to 106.84 million tonnes due to drought in the producing states during the year 2021-22, according to data from the Department of Agriculture. In 2020-21, the country has reached a record wheat production of 109.59 million.
"Wheat yield prospects are better due to the current weather conditions and acreage is slightly higher. Total production is estimated at over 112 million tonnes this year," the source said.
Sowing of wheat, the main rabi (winter) crop started from October, while harvesting will start from March and April. According to the latest data, farmers have sown 332.16 lakh hectares of wheat till January 6 of the current rabi season of 2022-23 (July-June), compared to 329.88 lakh hectares during the same period in 'last year.
High coverage was reported in Rajasthan (2.52 lakh ha), Uttar Pradesh (1.69 lakh ha), Maharashtra (1.20 lakh ha), Gujarat (0.70 lakh ha), Chhattisga sgarh (0. 63 lakh ha), Bihar (0.44 lakh ha) , West Bengal (0.10 lakh ha), Jammu and Kashmir (0.06 lakh ha) and Assam (0.03 lakh ha), according to the data.
Wheat production in Russia
Russia is the world's largest exporter of wheat, accounting for more than 18% of world exports.
Focus on the forecast period: It is expected that the production of corn in Russia will continue to increase by 11.8 million MT (+ 14.62%) in the next few years. Therefore, the production volume is estimated at 92.47 million metric tons in 2031.
Manufacturing is the process of creating a product. Production is usually measured in volume.
Overview of the Russian wheat market
Russia is one of the largest wheat markets in the world in terms of production and export, which has a significant impact on the world market. According to the estimates of the Federal State Statistics Service (Rosstat), the wheat harvest reached 104.43 million tons in 2022, an increase of 37% annually from 76.1 million tons. in 2021.
According to various estimates, the total amount of wheat consumed by Russia. has remained stable over the past 10 years, ranging from around 35.0 to 42.5 million metric tonnes per year market.
A report from the Ministry of Agriculture of the Russian Federation shows that Russia exported about 40-45 million tons of wheat in 2021, an increase of about 30% per year from 34 million tons of wheat last year go.
Recent developments in the Russian wheat market present both challenges and opportunities. The war in Ukraine has had a major impact on the Russian wheat market, its production and exports, interruptions to supply chains and changes in global supply and strong demand.
Russia's share of wheat production in the world
Russia is one of the largest producers of wheat in the world and its share in wheat production has increased in recent years. According to Tridge, Russia's share of global wheat production will reach 14% in 2020, more than wheat producers such as the United States and Canada.
The growing number of Russian wheat producers worldwide is due to many factors, including favorable weather conditions for growing wheat, increased investment in agricultural technology and grain equipment, and
Government support for the planting corn. Also, the depreciation of the RUB in recent years has made Russian grain products more competitive on the world market, which has made importers more demanding.