Garlic
Garlic is one of the important crops. It is used as a spice or condiment across India. Garlic consists of small bulbs or cloves. Garlic is grown in A. P, UP, Madras and Gujarat. Scientific tests have shown that certain ingredients in garlic help the heart function. Garlic is said to contain antibiotics that inhibit the growth of some bacteria and fungi
Physical description
Garlic plants grow to about 60 cm (two feet) in height. Depending on the variety, the long leaves often grow from short, hard stems above the bulb or emerge from a soft pseudostem with sheaths that cover the surface. The bulb is covered with a shiny skin and has up to 20 edible bulblets called cloves.
The round flower clusters are initially joined in a pair of rings, the bracts are leaf-like; bracts open when the flowers are greenish-white or pinkish. Flowers sometimes appear with small bulbils (small bulbs that grow in place of flowers) and the flowers are not clean. Garlic is grown as an annual crop and is propagated by planting cloves or bulbils, although plants can also be used.
Nutrition Value of garlic
Garlic is low in calories, saturated fat and sodium. It contains many useful minerals such as phosphorus, potassium, magnesium, zinc, calcium and iron, as well as elements such as iodine, sulfur and chlorine. According to the USDA National Nutrient Database, garlic is a rich source of B vitamins (folate, thiamin, niacin, and B-6) and vitamins C, A, and K. Garlic is one of the few foods that organic compounds. , allicin, allisatin 1 and allisatin 2.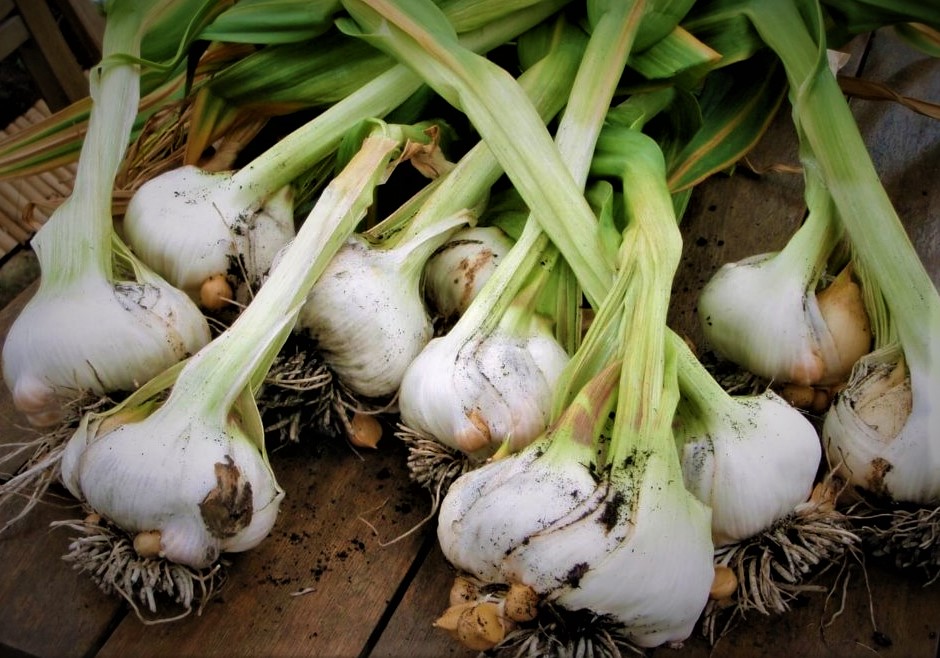 Health Advantages of Garlic
Studies have shown that garlic is a rich source of beneficial sulfur compounds, antioxidants and antioxidants. It is also one of the richest in phenolic compounds. Collectively, these chemicals have shown promising results. They are anti-inflammatory, antifungal, antibacterial, etc. In addition, they improve heart function, kidney function, bowel health, and weight management. Garlic also fights cancer. No wonder doctors also prescribe garlic to patients.
Blood purifier
Tired of using concealer to cover those pimples every morning? It's time to treat the cause of acne by cleansing your blood from the inside for healthy skin on the outside. Take two raw garlic cloves in lukewarm water every day, early in the morning and drink plenty of water throughout the day. If you want to shed a few pounds, sprinkle the juice of half a lemon in a cup of hot water and eat it in the morning with 2 cloves of garlic. Garlic will help cleanse your system and remove toxins.
Cold and flu
Garlic will get rid of your painful cold and flu (yes, they love you so much and they never want to leave). Taking 2-3 garlic cloves raw or cooked daily or drinking garlic herbal tea (with a touch of honey or ginger to make it more sweet) will not only make the nose and -Heat also cures the cold, but also strengthens your defense against these frequent visitors over time. . As Dr. According to Shikha Sharma, a health and wellness expert based in Delhi and the founder of Nutrihealth, "one of the first sources of garlic are people who eat meat, because it is believed that meat can cause disease. Workers who It is often used to expose it to diseases and environments where disease has been a problem until recently, and its number of health benefits has prompted white workers to accept it.
Improved Memory
Some compounds in garlic and garlic extract can act negatively, which means they can stimulate muscle tissue.
Researchers are using mature garlic to study its effects on mice with cognitive impairment. The results show that the garlic compound helps well in learning and creating memory in animals, with a positive effect on brain function.
Reducing the risk of heart disease
Because of its high blood pressure and lowering cholesterol, garlic can reduce the risk of heart disease. Garlic's beneficial properties for heart health may also be due to how it improves nitric oxide production. Nitric oxide is important for maintaining healthy blood circulation and blood pressure, as well as preventing vascular disease, inflammation, and blood clotting.
A 2020 garlic supplement study suggests that aged garlic extract offers several heart-healthy benefits. Another study from 2016 suggests that garlic supplementation may reduce heart disease risk and protect heart health. However, many clinical studies use large doses of garlic, which may not be suitable for everyone. If you are considering a garlic supplement, talk to your doctor first.
Bone health
The antioxidants of garlic can also improve some osteopathic or bone diseases.
A 2017 clinical trial examined the effects of garlic tablets on women with postmenopausal osteoporosis, which reduces bone loss. Researchers suggest that eating garlic can reduce oxidative stress associated with many diseases, including osteoporosis.
In addition, they suggest that garlic extract from garlic can facilitate calcium absorption.
Cancer prevention
A combination of garlic and garlic may provide some anti-cancer properties.
Clinical studies suggest that garlic may have anti-cancer properties or properties, including:
prevents the activation of carcinogens, compounds that can cause cancer
stimulates enzymes that inactivate carcinogens
reduce inflammation that may be associated with the development of cancer
supports DNA repair
inhibits the growth and spread of cancer and cancer cells
However, more research is needed to understand how these clinical findings can be translated into useful methods of cancer treatment and prevention, and the relationship between laboratory findings and clinical practice. medication, regimen, lifestyle and individual differences.