Introduction of Spices
The word Spices refers to any dried part of the plant, other than the leaves, used in the season to flavor this recipe, but not used as the main ingredient. What happened to the book? Because the green parts that are used in this way are considered weeds.
Other parts of the plant are taken including dried bark, roots, seeds, fruit, branches or any other part other than the green leafy part. Today, India is the largest consumer, producer and exporter of Spice in the world. They founded the Indian Spice Research Institute engaged in the study of spices.
Functions and Properties
Spices that work as antioxidants.
Spices acts as an antimicrobial compound.
India contributes 75%
world Spice production and spice market.
Cinnamon, cassia, nutmeg, mace, fennel, mustard, black pepper, etc. is an example of a spice.
Spices are aromatic or aromatic plant parts that are used to add flavor and aroma to food.
Spices are added at the very beginning of food preparation.
We can divide spices into simple and complex spices and use them in the preparation of condiments.
The Indian Spices industry is facing several challenges:
Work related issues
The strong smell of spices for a long time can harm your health. Hence, it is difficult to find employees in the Indian Spices industry.
trade credit
Food products have a high risk in the credit market and distributors, which can cause serious problems in the production of cash.
There are holes in the packaging
Poor quality of handmade packaging in India leads to packaging being sold due to lack of funds. It is often difficult to use high-tech equipment because of its high cost.
There are many competitors
The pepper business is competitive because there are many sellers. The competition is usually at the regional level. In addition to many small local businesses, there are also many organic grocery stores whose demand has increased due to strict quality standards.
Spice wastes and management
Every time Spices is handled, whether it is drying, storing, processing or packaging, there is waste due to improper powder handling. This ultimately contributes to the loss of profits for the manufacturer. An automated system to avoid this is not available on all sites.
Spices production in India
India is the largest exporter of spices and spices. In the year 2021-22, the country exported food worth US$ 4,102.29 million. In September 2022, India's food exports increased by 6.62% to $330.46 million.
In 2021-2022, India exported 1.53 million tonnes of food. From 2017-18 to 2021-22, the total number of exports from India is at a CAGR of 10.47%.
For FY22, the total chili, cumin, turmeric, and ginger exports were 0.55, 0.21, 0.15, and 0.14 million tons. In 2020-21, the export of chili, ginger, cardamom (small and large), coriander, turmeric, celery, cumin, fennel, fenugreek, other seeds such as seeds of ajwan, mustard, anise, nutmeg and mace; other spices like asafoetida, tamarind, etc.
Increased both value and volume compared to 2019-20. Even exports of valuable products such as essential oils and oleoresins have increased in both value and volume; exports of curry powder/paste increased in value and exports of mint products increased in volume.
The general process for making the Spices are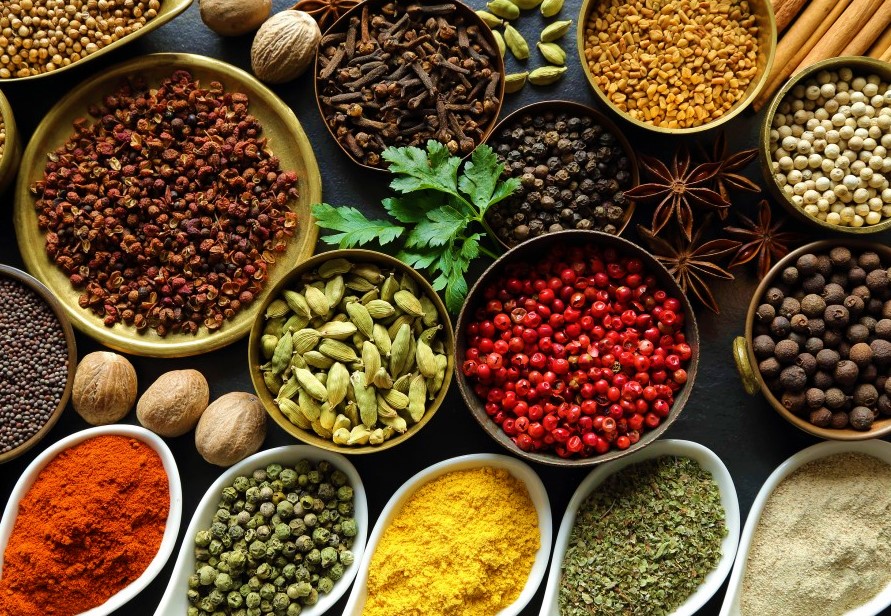 Washing: This is a basic cooking method in which the dug up vegetables are washed by hand to remove impurities such as dirt, dust and stones.

Drying: After washing, the material is exposed to the sun to dry it. The dryness of the pepper defines its character. Therefore, a great deal of cleaning is required in the process. The moisture in the food leads to the formation of bacteria that can spoil the food.

Food: After drying, the material goes through the fire. Torrefaction is a process of heating materials in the presence of air. The food of spices gives aroma, taste and color and properties. Grinding: Grinding machines are used. This process is used to grind the material into a powder form.
Grading: A classification system is used for grading vegetables based on their type, flavor, density, color, texture and organization.

Sieving: The process of sieving is the process of removing or excavating solids from liquids. It is done to ensure the uniformity of the size of the ingredients.

Packaging: Proper packaging of food products ensures freshness, taste and shelf life. Spices are used in almost every dish around the world. There are almost hundreds of different spices available in the market. The benefits of adding spices to food are immeasurable.
Where to grow spices in India
Pepper
Pepper is called the "King of Peppers" and is the most traded crop in India. It is cultivated in Kerala, Karnataka and Tamil Nadu. This warm plant needs a temperature between 10 ° C and a maximum temperature of 30 ° C. This crop also needs rain that is well distributed between 200 and 300 cm.
Being a vine, it needs a stronger tree to support it. After Indonesia, India is the second largest producer of pepper. Most of its production is from Kannur district in Kerala.
Cardamom
The queen of spices as this spice is commonly called is used for medicinal and flavor purposes. It requires high temperature and humid climate. It is grown in Kerala in Idukki, Kozhikode, Palghat and Kannur. In Karnataka,
it is produced in Hassan, Chikmagalur, Kodagu. In Tamil Nadu, it is cultivated in Salem, Coimbatore, Tirunelveli, Nilgiris and Ramanathapuram.
Pepper
Peppers need heat like peppers and plenty of rain for growth. The best thing about chili peppers is that they can grow in a variety of soils.
Andhra Pradesh is the largest chili consuming region, which is mainly grown in Guntur, Warangal, Prakasam, East and West Godavari and Khammam. Moreover, they are also grown in Assam, Gujarat, Madhya Pradesh, Uttar Pradesh, Karnataka and West Bengal.
Ginger
The medicinal properties of ginger are the reason why it is used in many dishes and in medicine. Ginger is grown in tropical and subtropical regions that require a temperature of 10° to 25°C.
You will be surprised to know that India is the largest producer of ginger in the world, contributing up to 80% of the total revenue.
Mizoram, Meghalaya, Kerala, Sikkim and West Bengal are the producers while Kerala is the largest producer among them.
Turmeric
Turmeric is one of the most important and important spices in Indian households. The uses of turmeric are many. It is used in dyeing, medicine and food. It needs well-drained sandy and clay soils.
It also grows red, half black or ground. India is also the world's largest producer of turmeric. Andhra Pradesh produces the largest quantity, accounting for almost half of the country's total turmeric production.
It is grown in Guntur, Cuddapah, Mysore, Belgaum, Coimbatore, Orissa and other places like Maharashtra, Tripura, Bihar and Assam.
Coriander
It is one of the most popular spices, especially when it comes to dressing dishes. In India, coriander is produced mainly in Gujarat, Madhya Pradesh and Rajasthan. Other areas where coriander is grown are Andhra Pradesh, Tamil Nadu, Karnataka and Uttar Pradesh.
Fenugreek
Fenugreek is amazing both as a vegetable and as a seed. It has great health benefits and in India it is grown in Rajasthan. Uttaranchal, Gujarat and Madhya Pradesh are other places where it is grown. This crop is usually cultivated in winter.
Mustard
It is another crop that is commonly grown in India. Mustard is an essential ingredient in any spice box. Mustard is grown in Bihar, Assam, Orissa, West Bengal and Punjab. Uttar Pradesh and Himachal Pradesh are other places where this crop is grown.
Garlic
Garlic is used in almost every dish around the world. It is planted in the form of humus, which flows in soft soil. Soil should be nutrient neutral in pH. Garlic is grown in different parts of India in Gujarat, Orissa, Maharashtra, Uttar Pradesh, Madhya Pradesh and Rajasthan. Gujarat is a producer. It is also a good low maintenance crop.
India has been a rich crop producing country for many years. There are many crops grown in our land that have made our agriculture work in the past and have done so. Our country exports various types of food products around the world. Some of the best Indian spices are used directly from food to medicine.
Many Indian herbs and spices have incredible health benefits. There are no better medicines than those from plants. It's time to use our local herbs and spices for a better life.