Internationally production of guava.
Worldwide, 55,853,238 tons of mangoes and guavas are produced annually. India is the largest mango and guava producer in the world producing 25,631,000 tons per year.
Indonesia comes second with 3,294,817 annual production. India and Indonesia together produce more than 50% of the world's mangoes and guavas.
With an annual production of 2,582,791, China is the third largest producer of mangoes and guavas. The United States of America, with 1,141 tons of annual production, ranks 79th.
Guava processing industry in India- production capacity
Unlike the mango processing industry, the number of guava processors in India is limited. Guava processing plant in India is located in Krishnagiri district in Chittoor district. The southern style is used for design and the northern style as a table style.
Global consumption of guava puree was valued at $313.8 million in 2017, according to a report. During the forecast period of 2017 to 2025, this market is expected to grow at a CAGR of 5.6%. In the next few years, the guava puree segment will maintain its dominance in the food industry. Asia-Pacific is expected to register the fastest growth in the years 2020-2025. India is a major producer and exporter of guava pulp.
Tropical pink guava puree has a market share of 55.3% and white guava puree has a market share of 40%. The remaining 5% is shared with other brands. In addition, the lack of technology for guava processing has slowed down the development of the global guava industry. However, in recent years, the development of advanced technology during harvesting has benefited the food and beverage processing industry. In addition, significant growth in the food processing industry is driving the global guava puree market.
Conditions for Guava Productions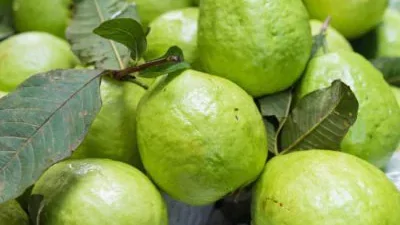 Weather:
Like mango, guava grows from the plains to the high mountains because it is very versatile. It needs a period of mild rain during the growing and ripening period of fruits, such as mango. An increase in rainfall in a year can lead to stunted growth and reduced productivity. It may not tolerate light frost in winter and drought in summer. It requires a dry climate during flowering.
Soil:
Guava is considered as a hard fruit. It is not hard on the ground. It can grow well in slightly alkaline and poor soil. For good plant growth, sandy loam and clay loam with a pH of 6.5 to 8.5 are best.
Planting:
Guava is usually planted in compact plots at a distance of 7 m, thus requiring 196 trees in a square system and 216 in a hexagonal planting system. But it is also planted as a filler in lychee and mango fields, so the number of trees varies depending on the distance from the main fruit. Green Guava can be planted in both seasons such as rainy season from August to October and spring season from February to March.
Care should be taken when removing clods, and the taproot of the rootstock must be cut to a depth of at least 20-25 cm. In the case of spreading weeds, all roots must be removed. Rooted Guava can be planted in September-October. In this case, the plants can be damaged and removed from the nursery and the roots are covered with water waste (paddy waste) and wrapped in burlap to control transpiration.