About Onion Production
Onion has been exported worldwide to reach a total of US$ 3.95 billion in 2021.
Onion export prices have increased by an average of 21.2% for all exporting countries since 2017, when international onion sales reached $3.26 billion. Annually, the price of onions exported abroad decreased by -2.7%.
The top five onion exporters are the Netherlands, India, Mainland China, Mexico, and the United States of America. In total, this group of onion exporters sold 59.3% of all onion exports in 2021. This percentage suggests a small proportion of onion exporters. Within the continent, importers from Asia sold the highest dollar value of onions in 2021 with a shipment value of $1.35 billion, more than a third (34.1%) of the global total. Those behind the second place are exporters in Europe with 33.5%, while 18.6% of global onion exports come from North America. A lower percentage comes from Africa (6.5%), Latin America (3.8%) excluding Mexico but including the Caribbean, and Oceania (3.5%) consisting of onions exported to New Zealand and Australia.
For analytical purposes, the Harmonized Tariff System 6 code is 070310 for onion and shallot. A shallot is a small onion-like bulb. Shallots are used in pickles or as an onion substitute.
Country
India is the first onion producing country in the world. In 2021, onion production in India is 26.6 million tons, which is 24.98% of the global onion production. The top 5 countries (others are China, Egypt, United States of America and Turkey) accounted for 56.05%. Total global onion production is estimated at 106 million tons in 2021.
What is special about onions in India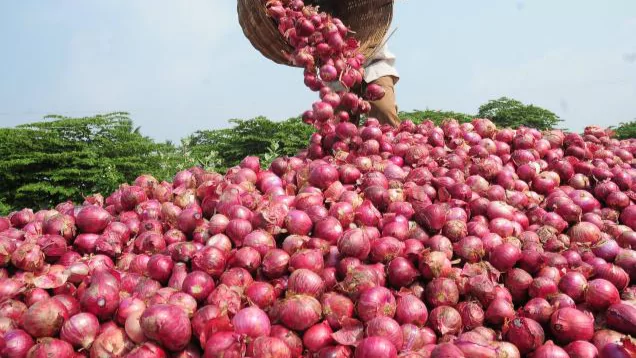 It may be hard to believe, but high onion prices may trigger a government failure in India. In 1998, a supply side shock led to a sharp rise in onion prices in the country and particularly in the state of Delhi. In the next election, the ruling party won by a landslide due to its inability to control onion prices in the state capital. Today, onion prices in India are on the rise again, rising more than 100% in just three weeks in December. On December 20-21, onion prices rose to Rs 70-85/kg in major cities across India from Rs 30-35 in early December, due to crop damage caused by heavy rains in the state Maharashtra and Karnataka produce.
Realizing the possible political fallout due to price increases, the government acted quickly this time to bring down the price of land. Besides canceling importers, the government lowered the import duties on onions, ordered the state-owned trading company to import onions from neighboring countries, and banned the export of onions (some s related to the export ban).
For those of us who are slow in government, the government's quick response is a welcome sign. However, for those who want to sit and discuss for a long time the reasons for the intervention in the law, you can not help but wonder about the price of onions and whether the government's response is correct or not it is not. Some ideas to consider:
Paying double onions is not a fatal or surprising fact that politicians and governments are afraid of it politically. If it is difficult for voters to live without onions (due to the high price of onions), what about clean water, electricity, clean air, sanitation, crime and safety and law and order? the law? These products are also scarce and expensive for the poor in India. I think it's safe to say that these things are a bigger concern than the lack of onions. Also, as an article in one of the leading Indian newspapers says, the fear of consumers in urban areas due to the price of onion must be addressed. Quote from the essay:
The fear generated by middle class consumers must be addressed. These families do not hesitate to buy ice cream cone for Rs 50, pizza for Rs 400, 1 liter of flavored water for Rs 50 – but they become hysterical if the price of onion reaches Rs 60 a kilo. It happens every year, crops after sowing – sugar, rice, wheat, cotton.
The proposed measures to control the price of onions are for the public safety of consumers in urban areas like New Delhi. But the farmers (onion growers) who are always cheated by the middlemen do not find such protection. Reports show that farmers get only a fraction of the increase in onion prices and are able to cover their wages in one year. Is it political and economic sense to protect rural consumers but not rural farmers?
The high price of onion reflects the scarcity of onion. Therefore, the best consumer response should be to switch from onion to cheap food. Keeping onion prices low does not allow consumers to face the real price of onions, leading to poor consumer selection at the national level. The last thing I think about is the logic on the production side. The production decision depends on the prevailing market price and if this price is distorted (in the sense that it does not reflect the true opportunity of the society to eat onions), then the producer's decision will be distorted. Of course, this can only happen in the long run, because onion production is fixed or small and short-term. If producers see that they are unlikely to profit from high prices in times of scarcity, but are forced to carry freely in times of abundance, the incentive to invest in agriculture will fall, which will reduce the burden of agriculture. The same can be said about the various restrictions on agriculture, since they exacerbate market distortions and increase transaction costs. According to the aforementioned article:
Just as industry thrives even shy of doses of liberalization and the end of the license quota raj, agriculture can thrive when the process of economic reform extends to it – meaning that the hand The dead government does not allow him to stop the business. of our farmers. The policy of restrictions on the export of agricultural products must be abandoned to help farmers get better prices, which will allow them to invest in increasing production. Higher production will lower food prices.
Production of Onion In India
Major onion producing states are Maharashtra, Madhya Pradesh, Karnataka, Bihar, Rajasthan, Andhra Pradesh, Haryana, West Bengal, Gujarat and Uttar Pradesh in the country. These states account for nearly 90% of the country's total onion production.
The production estimate of onions in the year 2017-18 is 3.72% more than that. last year, i.e. 2016-17.  According to the preliminary plan, the production of onion in the year 2018-19 should be. 1.49% more than last year and 12.48% more than 5 years ago average output.