Milk – Richest Contain Of Nutrient
Milk is a liquid produced by the mammary glands of mammals, including humans. Milk is a favorite of children because it is well tolerated as their digestive tract develops and grows. Milk can be introduced in old age if well tolerated. Although milk can come from any animal, cows, goats, buffaloes and sheep are the most common producers. This section will focus on milk and briefly discuss non-dairy plant milk.
Whole milk contains about 87% water. The remaining 13% contains protein, fat, carbohydrates, vitamins and minerals. Processes remove fat to create low-fat versions: "reduced fat" with 2% milk fat, "low fat" with 1% milk fat and "fat-free" or "skimmed" "No milk fat. Cows usually get pregnant during lactation. Therefore, milk contains hormones such as insulin-like growth factor (IGF-1), estrogens and progestins. Some cows are given extra hormones to increase milk production.
Milk production in India
India became the largest producer and consumer of milk in 2019.
Among the population dependent on agriculture which includes agricultural workers and farmers, those involved in dairy farming and animal husbandry are 70 million.
Also, out of the total workforce of seven million people working only in raising cattle and cattle, 69% of them are workers, that is 5.72% of workers, women in the country, 93% of them live in rural areas.
Niti Aayog estimates that the country should increase its milk production to 330 million metric tons (mt) in 2033-34 from the current level of 176 mt. Currently, India accounts for 17% of global milk production, surpassing the United States in 1998 as the world's largest milk producer.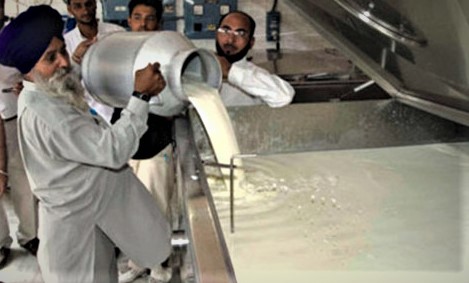 All of these were accomplished through flood projects that were introduced in the 1970s. According to market research firm IMARC, the milk and dairy industry was worth Rs7.9 lakh crore in 2017.
In 2016, the dairy sector alone was worth Rs3 lakh crore and is expected to reach Rs7.3 lakh crore by 2021. Per capita milk consumption in India has increased from 126g per day in 1960 to 359g per day in 2015.
In the gross value added (GVA) of agriculture, the livestock sector contributed 28% in 2019-2020.
A growth rate of 6% per year in milk production provides great support to farmers, especially during droughts and floods.
How to make milk
Collection – Unpasteurized milk is collected and cooled to a certain temperature to prepare it for further processing.
Separation – Any kind of sediment or debris is removed from the milk during this step. A separator separates the light milk and heavy milk fat into cream and skim milk.
Pasteurization – Milk produced is heated to a certain temperature to kill pathogenic microorganisms in it. It increases the time you can store milk in the tank.
Homogenization – Homogenization, as the name suggests, is the process of making milk smooth. This is done by breaking down the solids in the milk.
Storage – The milk is stored in storage tanks for further delivery to factories or milk producers. This is the last step in the milk production process.
Process Of Production of Milk
Discuss the stages of making milk. The steps are: 1. Taking milk 2. Burning 3. Filtering/Clarification 4. Cooling and storage of expressed milk 5. Nhazi 6. Pasteurization 7. Homogenization 8. Packaging/Packaging 9. Security.
Receive Milk
Milk and milk / milk can be delivered in pots or tanks (road or rail). The milk in these containers must be labeled, discarded, weighed by weight or volume, weighed and packaged to ensure that it continues to supply the food. pasteurization. If there is no mechanical aid, the cans are removed by hand at the end, where the cover/cover is removed from the milk. They are then weighed by hand, and the cans and lids are transferred to the washing machine through a draining reservoir or tray. When high loading is required, this system is repaired and the boxes are unloaded directly from the truck and transported (motorized or by gravity) and loading, checking and recording of the load can be complete.
If the milk is measured by weight, as before, it is poured into a tank / sampler; This is accomplished by weighing machines whose markings are marked with weights and placed so that they are easy to see by the examiner. Two heavy tanks can be used for quick reception.
The relief valve has a large diameter to allow quick emptying and is easy to control by the indicator/checker. The milk is thrown into the garbage can, it is placed directly under the pot; With this, the milk can be pumped continuously to the unheated milk storage area, which is usually at a high level to allow gravity flow to the pasteurizing plant.
Receiving milk from a large rail or road tanker is the key to providing a covered area where it is cleaned and cleaned afterwards. The opening of the well must be connected to the sanitary pipe.
Milk can be removed from the milk, which is at a lower level than the well, or an air line can be connected to the top of the well and the milk is expelled by the air. Cleaning and disinfection of the well should be carried out immediately after use. The measurement of milk from a tanker truck can be done using a wool gauge or a flow meter. If the milk comes from a dairy, it has been prepared, weighed, weighed and cooled. It can be measured and indexed again, or the Center report can be used. This last step applies especially to shipping.
The reception of milk must be organized in the chosen equipment in such a way as to maximize the performance of the reception. This is especially important when receiving large amounts of milk. Delays allow spoilage of milk waiting to be unloaded, increase labor costs and can increase washing costs. Delivery of milk will follow the schedule.
If continuous milk is obtained during the scheduled period, the work of the plant will not stop and the workers of the various departments will be fully employed. The goal should be to achieve milk intake within 3-4 hours, especially in tropical countries.
Commercial dairying requires higher quality milk (in terms of health, flavor, cleanliness, quality and aesthetics) than any other branch of the dairy industry. The quality of incoming milk (consumption) affects the amount of processed milk (or product produced).
It is well known that the cleanliness of the milk on the platform / station depends on its condition in the farm, i.e. good cows, clean milk production, clean containers, no colostrum, quick cooling and refrigerated transport. However, conscientious dairy farmers require systematic and thorough testing of all dairy products on a daily basis.
When the milk is received in the dairy / dairy industry, it must be at 5 ° C or less. The milk should be clean, sweet, of agreeable flavor, free of off-flavors and reasonably free of foreign matter. Contamination with antibiotics, pesticides and other chemicals or metals is highly undesirable. Bad milk will not be accepted. The development of acid is not allowed, because it not only shows a large number of bacteria, but it reduces the temperature of milk.